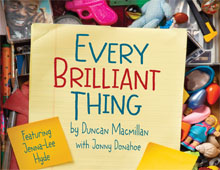 We're thrilled to announce Calgary tour dates for our original production of EVERY BRILLIANT THING which will open Fire Exit Theatre's 17th season. We're grateful to bring this life-changing story to Burnt Thicket's birthplace, after opening Live Five Theatre's season in Saskatoon. This international hit will feature the winsome Jenna-Lee Hyde, drawing audiences in to this astonishingly funny comedy about depression.
EVERY BRILLIANT THING tour dates:
October 4-14 at The Refinery in Saskatoon, presented by Live Five Theatre. Buy Tickets in Saskatoon
October 17-21 at The Engineered Air Theatre, Arts Commons in Calgary, presented by Fire Exit Theatre. Buy Tickets in Calgary
Fire Exit Theatre's managing artistic director Val Lieske says, "We have a long history of partnering with local, national and international artists to bring unique and innovative voices to our stage. We share in Burnt Thicket's vision to create work that will lead artists and audiences to live more engaged lives for the common good of Canadian society."
We are so grateful to partner with these two theatre companies – it's a wonderful way to 'introduce' our company to Saskatoon and to reconnect with our audience in southern Alberta.