Playing Oct 4-14 in Saskatoon & Oct 17-21 in Calgary – our original production of the international hit:
EVERY BRILLIANT THING
by Duncan Macmillan, with Jonny Donahoe
Featuring Saskatoon's own Jenna-Lee Hyde
You're seven years old. Mum's in hospital.
Dad says she's 'done something stupid'. She finds it hard to be happy.
You start a list of everything brilliant about the world. Everything worth living for.
1. Ice Cream.
2. Kung Fu Movies.
3. Laughing so hard you shoot milk out your nose…
You leave it on her pillow. You know she's read it because she's corrected your spelling.
Twenty years and thousands of things later, the list will take on a life of its own. See this Saskatchewan premiere and be drawn in to an astonishingly funny comedy about depression and the lengths we go to for those we love.
"Heart-wrenching, hilarious…possibly one of the funniest plays you'll ever see, full stop." ★★★★ – The Guardian
Critic's Pick – The New York Times
Critic's Choice – Los Angeles Times
"the funniest show about depression you've ever seen… [It's] about finding reasons to live… And those reasons can be as minute as wearing a cape and as big as falling in love." – New York Post
Creative Team
Jenna-Lee Hyde* – Performer – jennaleehyde.com
Jenna-Lee is a Prairie born and raised actor living in Toronto. She has trained with theatre professionals from across Canada at The Second City in Toronto, the Banff Puppet Intensive, Globe Theatre's Actor Conservatory, and the University of Saskatchewan where she received her BFA in Acting. Some recent credits: Our Town (Theatre Rusticle / Buddies in Bad Times Theatre), marry me, marry me, marry me, marry me (House + Body / Paprika Festival), Drowning Girls, The Secret Mask, (Globe Theatre), Farndale…Christmas Carol (Persephone Theatre), Much Ado About Nothing, Taming of the Shrew, and Romeo and Juliet (Shakespeare on the Saskatchewan). Her work can also be seen on Workin' Moms (CBC), and the upcoming short film, Benched.
Stephen Waldschmidt – Director & Scenic Co-Designer
Tim Bratton – Sound Designer, Music Director & Scenic Co-Designer
Charlie Peters – Lighting Designer
Alana Freistadt* – Stage Manager
*Burnt Thicket Theatre engages under the terms of the INDIE 2.2, professional Artists who are members of Canadian Actors' Equity Association.
Buzz About the Show
"It was honestly so good. Saw it Sunday and have been thinking/talking about it all week – I'd go again if we lived closer!" –Candice N., Facebook comment
"Every Brilliant Thing @LiveFiveTheatre is brilliant — a play about depression that gives you one million reasons to be happy. One million and one: great performances in great plays. Go see it, this weekend or next." –Rod M., Twitter post
"What a wonderful production. Kudos to the crew for putting this relevant and timely piece together." –Amy R., Facebook post
"Fantastic production!" –Skye B., Instagram comment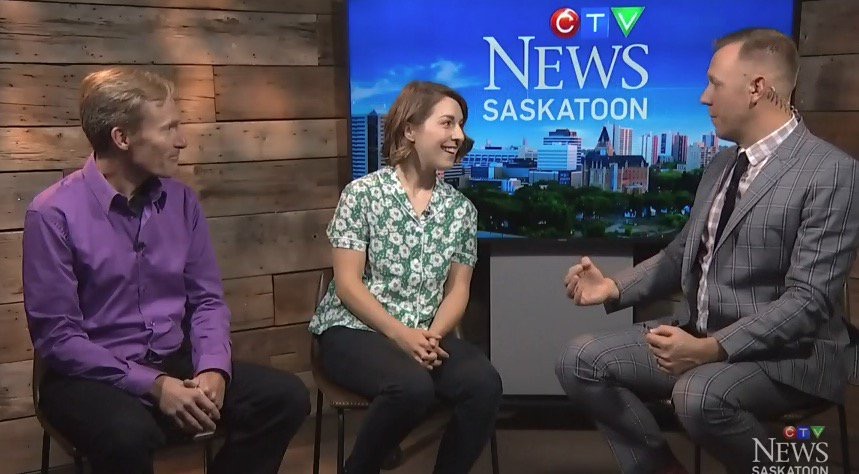 Watch interview with Jenna-Lee Hyde & Stephen Waldschmidt on CTV News Saskatoon (start video at 17:50).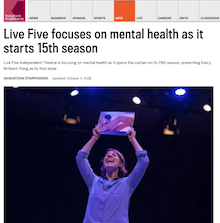 "Live Five is focusing on mental health as it opens the curtain on its 15th season, presenting Burnt Thicket Theatre's EVERY BRILLIANT THING." –StarPhoenix article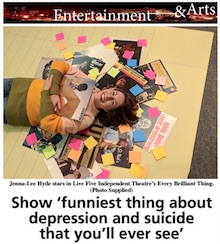 "Show 'the funniest thing about suicide and depression that you'll ever see.'" –Saskatoon Express article
October 4-7 & 11-14 in Saskatoon, presented by Live Five Theatre
Thursdays through Saturdays @ 8pm; Saturdays & Sundays @ 2pm; Pay-What-You-Can Preview Oct 4
Tickets $22-$25 call 306-653-5191 or purchase online (save with a Live Five Season Pass)
Venue: The Refinery Arts & Spirit Centre – 609 Dufferin Avenue, Saskatoon – one block off Broadway next to Emmanuel Anglican Church
All Saskatoon performances will be followed by AfterPlay – an optional discussion with the audience. AfterPlays on Thursday evenings and Saturday/Sunday matinees will feature an expert from Mental Health & Addiction Services of Saskatoon, including Jae Bleakley who uses his lived experiences with bipolar disorder to bust stigma and bring hope, Wanita Bird, a Substance Use Counsellor and First Nations Mental Health First Aid facilitator, and Maggie Philips, a Registered Doctoral Psychologist with the Saskatchewan Health Authority with a particular interest in cognitive distortions.
Invite your friends via the Saskatoon Facebook event page

October 17-21 in Calgary, presented by Fire Exit Theatre
Wednesday through Saturday @ 7:30pm; Saturday & Sunday @ 2pm
Tickets $20-$25 call 403-640-4617 or purchase online
Venue: The Engineered Air Theatre at the Arts Commons – 200 block of 9 Avenue SE, Calgary – Parking Info
Invite your friends via the Calgary Facebook event page

Audience Advisory: Content not suitable for young children.
Thank you to our Corporate Sponsors
Season Sponsor:
Shercom Industries, Saskatoon
Silver Level Sponsor:

Conversations Consulting, Saskatoon
Bronze Level Sponsor:

Wellen Boring, Saskatoon
Photography Sponsor:

Stobbe Photo, Saskatoon
Printing Sponsor:

Globe Printers, Saskatoon
Webhosting & IT Sponsor:

Prairie Fusion, Saskatoon