Audience Reviews:
"Just listened to The Kindling Box, and I was very impressed. The script, acting and sound quality were all first rate. Bravo!" –David E.
"Really enjoyed listening to the play last night – just terrific work!" –Kathy A.
"Thank you for a very enjoyable half hour! It was really fun to imagine everything as it played out… reminded us so much of listening to radio plays when we were young!" –Carolyn S.
In the News: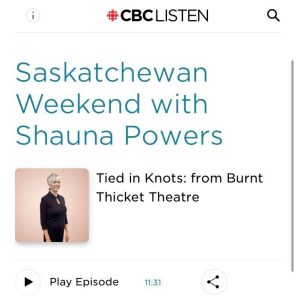 CBC Radio Saskatchewan Weekend interview with Jeany Van Meltebeke & Stephen Waldschmidt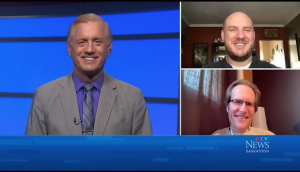 CTV News At Noon interview with Joshua Beaudry & Stephen Waldschmidt (interview starts at 14:18)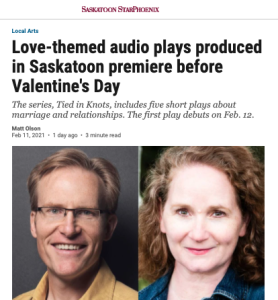 Saskatoon StarPhoenix interview with Jeany Van Meltebeke & Stephen Waldschmidt
Shaw Community Link interview
with Lancelot Knight & Stephen Waldschmidt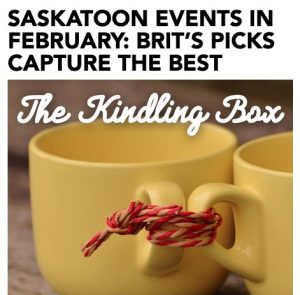 The Kindling Box selected by Brit's Picks & Toast Media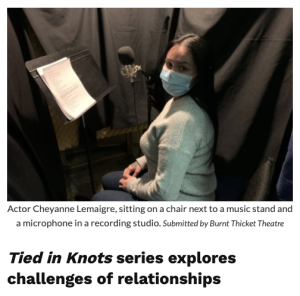 Interview in University of Regina's The Carillon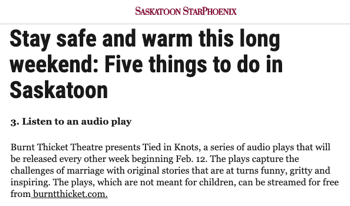 Tied In Knots recommended on StarPhoenix's Top 5 Things To Do This Long Weekend