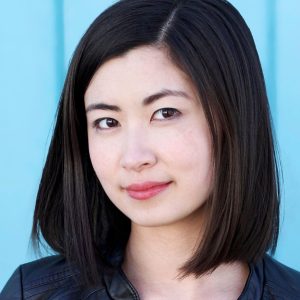 Megan Zong – Actor playing Allison
Megan Zong is a Chinese-Canadian theatre artist born and raised in Saskatoon on Treaty 6 Territory, the homeland of the Metis. Having graduated from the University of Saskatchewan with her BFA in Acting, she has continued to perform and create all over the province. She will be debuting her show Unmasked in the fall of 2021 as an emerging playwright and producer. Select acting credits include: Pride & Prejudice, Boeing Boeing (Persephone Theatre); Mamma Mia, The Hobbit, Chicago (Globe Theatre); Earth Diver, Queen Seraphina and the Land of Vertebraat, The Young Ones (Sum Theatre); Short Cuts Festival 2017 (Hardly Art Theatre).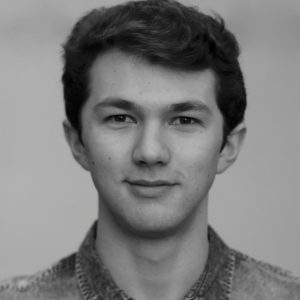 Mackenzie Dawson – Actor playing Caleb
Born and raised in Saskatoon, Mac is proud to call the prairies home. He received his BFA in Acting from the University of Saskatchewan, and has since diversified his practice to include playwriting, direction, and stage management. As an Artistic Associate with Sum Theatre, he has enjoyed exploring exciting ways of working outside of the conventional theatrical space, including co-directing the outdoor on-ice musical, The Hockey Sweater / Le Chandail (Sum Theatre & La Troupe du Jour). After stage-managing their 2020 production of Every Brilliant Thing, Mac is grateful to now join Burnt Thicket as an actor. Recent acting credits include New Voices (Gordon Tootoosis Nīkānīwin Theatre); Manuscript (Channel Theatre); Jabber, For Art's Sake (Persephone Theatre); Titus A. Puppet Revenge, The Merry Wives of Windsor (Shakespeare on the Saskatchewan).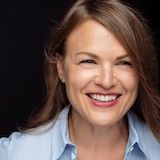 Krista Marushy – Playwright
Krista Marushy is an actor, playwright and educator currently residing in Calgary, AB. She holds an M.F.A. in Playwriting from the Playwrights' Lab at Hollins University and graduated from Trinity Western University with a B.A. in Theatre and has taught at Ambrose University (current), Rosebud School of the Arts, and Trinity Western University. Playwriting credits include A Dangerous View and The Xeno Station (Jupiter Theatre, both audio drama), Evergreen (The Factory Theatre at Greenville, Fire Exit Theatre) The Curiosity Cabinet (Best of Fest, Calgary International Fringe Festival), Cultivation (Pacific Theatre), Nellie's Controversial Premier (Rosebud Theatre/Heritage Park), Secret Life Under the Stairs (Wonderworks Theatre, published by Youthplays), and The Ristretto Proposal (Trinity Western University). Her play The Green House won the 2019 Scripts on Fire competition and was workshopped with Fire Exit Theatre in May of 2019. Her short screenplay, The Culling Ground (Naked Thieves Creative Collective/Slanting Productions) was distributed last fall by Vestra Pictures.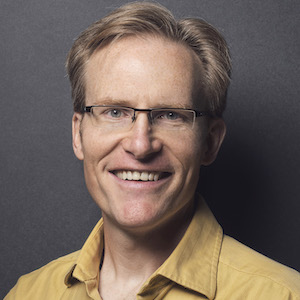 Stephen Waldschmidt – Director
Stephen works as a director, designer, and actor based in Saskatoon. Directing credits with Burnt Thicket Theatre include MY LITTLE PLASTIC JESUS, EVERY BRILLIANT THING, WE ARE THE BODY, SHE HAS A NAME, and HOCKEY DAD: A PLAY IN 3 PERIODS (which he co-wrote with James Popoff). Acting credits include Persephone Theatre's THE RESISTABLE RISE OF ARTURO UI; Rosebud Theatre's QUEEN MILLI OF GALT, THE ROAD TO MECCA, TENT MEETING; Pacific Theatre's CHICKENS, THE CLEARING; and five summers playing the role of Jesus in THE CANADIAN BADLANDS PASSION PLAY. Stephen holds an interdisciplinary masters degree in fine arts and theology from Regent College and a BFA in drama from University of Calgary. He's immensely grateful for Kirsten's support, his best friend and spouse for 24+ years.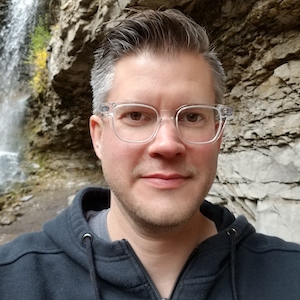 Barrett Hileman – Dramaturg
Barrett is a multidisciplinary theatre-maker with directing, creation, dramaturgy, and acting credits with Fire Exit Theatre, Hit & Myth, Badlands Passion Play, Rosebud Theatre/Rosebud School of the Arts, Corps Bara Dance Theatre, Kompany Family Theatre, Theatre of Consequence, Theatre BSMT, Smoke Signal Media, Alberta Playwright's Network, and Rocky Mountain College. Barrett was the Managing Artistic Director of Alberta's Spread the Word Theatre for seven years before obtaining his MFA in Directing from the New School University in New York City. In New York, Barrett worked with Red Bull Theater, Firebone Theatre, and the Public Theater's Emerging Writers Group. Barrett is currently an Associate Professor of Theatre at Ambrose University and the Chair of Ambrose Arts.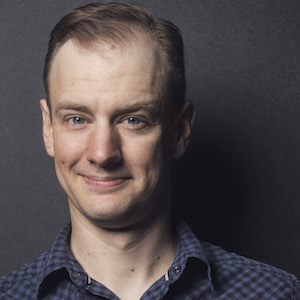 Tim Bratton – Recording Engineer, Sound Designer, Editor
Tim is an actor, playwright, sound designer, care-worker, musician, vinyl record collector and all around dilettante. With a broad range of training and experience in both theatre and theology, Tim is committed to helping people tell the stories that help us make sense of life. Acting credits include ROSENCRANTZ AND GUILDENSTERN ARE DEAD, BOEING, BOEING, PRIDE AND PREJUDICE and 'ART' (Persephone Theatre); GODSPELL (Pacific Theatre); WOLF AT THE DOOR (Otherwise Productions); WE ARE THE BODY (Burnt Thicket Theatre), and a self-produced Fringe Festival tour of the solo performance piece TOP TEN THOUSAND OF ALL TIME. Tim lives in Saskatoon with his lovely wife and fellow theologian, Amy, and their two very active sons.