July 2015 
Update: Fringe on the Ranch will not be taking place in 2015. Stay tuned for more events!
August 2014
Burnt Thicket Theatre and the Calgary Fringe invite you to enjoy some of the best that the Calgary Fringe has to offer – right here at the Cochrane RancheHouse Theatre.
The Fringe Festival started in Edinburgh, Scotland, in 1947, and has grown into one of the biggest arts festivals around the world including 17 Fringe Festivals across Canada.  These non-juried festivals provide valued performance opportunities for artists of varied disciplines. This year's Calgary Fringe (August 1-9) will include 26 different productions with 160 performances over 9 days – and now Cochrane gets in on the action as Burnt Thicket Theatre brings a selection of the Calgary Fringe Festival to town.
Tickets are $20 in advance; $25 at the door.
A limited number of 2-night passes for $35 are available! See 4 shows for less than $10 each!
Suitable for ages 14+.
Brown Paper Tickets Ticket Widget Loading…
Click Here
to visit the Brown Paper Tickets event page.
August 6th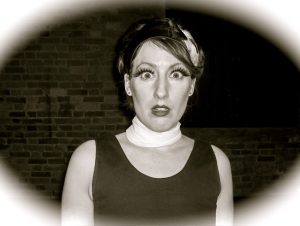 Wilma-May and Her Tight White Socks by Jennifer Roberts – Calgary
May is afraid of everything, from popcorn to tall buildings, from shower curtains to giraffes. She has exiled herself to avoid it all. Stocked up with food, water and magazines but the one thing she forgot: light bulbs…and she is the most afraid of the dark.  Follow her as she joins an online support group in a last ditch attempt to get past her fears once and for all – or at least long enough to go out and buy more light bulbs!
"Her fears are our fears, and her triumphs make it easier to surmount our own obstacles." – Audience Member, Calgary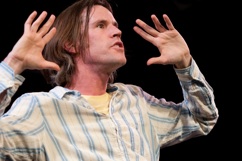 The Surprise by Martin Dockery – New York
New York storyteller Martin Dockery reunites with Mike Daisey's longtime director and collaborator Jean-Michele Gregory (How Theater Failed America, If You See Something Say Something, Wanderlust)to create a theatrical monologue that takes us through the ruins of Angkor Wat and the chaos of bustling Saigon, as startling revelations force him to question what it means to be a family, and what remains when foundations crumble. The Surprise is the true and comic story of an uncertain girlfriend, an enigmatic father, and a most epic game of emotional chicken. Told with equal parts humor and heart, it is the tale of a family rife with secrets, and clueless as to how to reveal them.
"Defly constructed… Truly vivid." – The New York Times
August 7th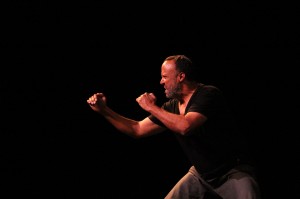 Me and My Monkey by Bradley Spann – Los Angeles
A hilarious and moving solo show about growing up in the 70's, just south of South Central L.A. Bradley navigates living in a house with a crazy monkey, three hormonal teenaged sisters, a tattle-tale younger sister, an absentee brother, a divorced and traumatized mother. Add to this the inappropriateness of his sports-loving father while he attempts to nurture his growing love of comic books. What are a boy and his monkey to do?
"Hilarious. Bradley is a tour de force. From monkeys to the disappointments of the heart. Depth with humor. A pleasure to watch." –Audience Member, Boulder, Colorado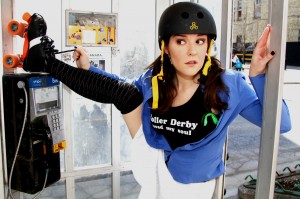 Roller Derby Saved My Soul by Nancy Kenny – Ottawa
A shy comic book geek discovers roller derby and finally becomes the superhero she's always wanted to be.
"Skates straight into your heart." – Edmonton Journal
Help Promote the Show!
Download a Printable Poster Here
Download a Printable Handbill Here