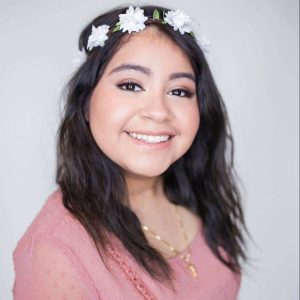 Kris Sandoval – Actor playing Lucia
Kris is a Hispanic Saskatoon based performer. She has always had a love for theatre since she was a child. She has been featured in productions around Saskatoon, most notably in the Persephone Theatre Young Company from 2016-2019, The Romeo Project at the 2019 Fringe Festival, the Floyd Theatre Festival 2017-2018, and Trapped at the 2020 Shortcuts Festival. Kris has also graduated fashion school and hopes to one day be a successful fashion designer, but acting will always be a must in her life.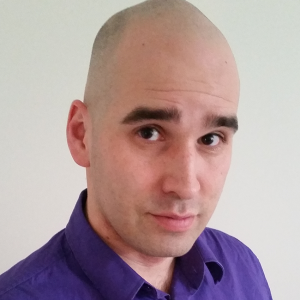 Ed Mendez – Actor playing Kenneth
Ed Mendez is an actor, director, voiceover artist, sketch comedian, arts administrator, and more based out of Saskatoon, SK and he is deeply grateful to the Indigenous peoples of Treaty 6 for welcoming him as a visitor to this land. He strives to ensure that emerging artists are supported as best as possible so their stories and visions can be shared with the greater community. He believes wholeheartedly in the power that storytelling has to connect us as people and is delighted to work with Burnt Thicket for the first time.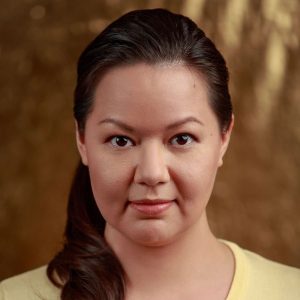 Samantha Whitecalf – Actor playing Maria & Monica
Samantha Whitecalf is from the Sweetgrass first nation, and was born in Regina, SK. For the last 10 years she has lived, and worked Los Angeles, CA, and has studied the Sanford Meisner technique at the Berg Studio in Hollywood. She's been a cast member of many independent theatre productions in Los Angeles, such as: Reservoir Bitches, Dark Side of the Moon, and Three Sessions. Samantha enjoys hiking, cooking and spending time with her mother. Recently, Samantha has participated with the Government of Saskatchewan in an ad campaign, to bring awareness to interpersonal violence, Face the Issue.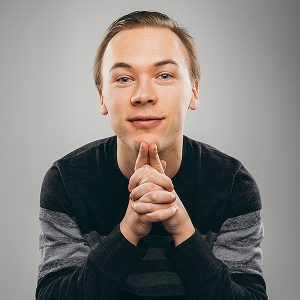 Kody Farrow – Actor playing Richard
Kody (he/him) is an emerging theatre artist from Saskatoon who recently graduated from the University of Saskatchewan with his BFA in Drama. Past acting credits include Rooftops (DSA Production), The Romeo Project (The Studio), Machinal, Henry V, Arcadia, Spirit Wrestler, and The Beaux' Stratagem (Greystone Theatre). Stage management credits: New Voices (Gordon Tootoosis Nikaniwin Theatre), Turn, Turn, Turn (Sum Theatre), and The Cripple of Inishmaan (Greystone Theatre).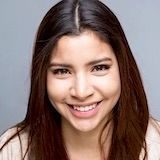 Yulissa Campos 
Yulissa Campos is a professional actress and an emerging playwright originally from Ecuador, but calls Saskatoon her second home. She holds a Bachelor of Fine Arts in Acting and a Bachelor of Arts in Psychology, both from the University of Saskatchewan. Yulissa is the founder and artistic director of Ay, Caramba! Theatre, the first Latinx theatre in Saskatoon. She debuted as a playwright in the Last Sunday in March 2019 with Trapped and wrote, produced and performed Ay, Caramba's inaugural production I, Frida at the 2019 Saskatoon Fringe Festival. Selected theatre credits: Earth Diver (SUM Theatre), Prairie Nurse (Station Arts Centre), The Penelopiad (FerrePlay Theatre). Playwriting credits: Trapped (#ArtApart NTS 2020, Short Cuts Festival 2020, The Last Sunday 2019), I, Frida (Saskatoon Fringe 2019).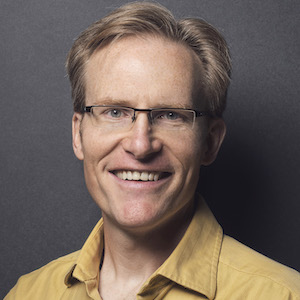 Stephen Waldschmidt – Director & Dramaturg
Stephen works as a director, designer, and actor based in Saskatoon. Directing credits with Burnt Thicket Theatre include MY LITTLE PLASTIC JESUS, EVERY BRILLIANT THING, WE ARE THE BODY, SHE HAS A NAME, and HOCKEY DAD: A PLAY IN 3 PERIODS (which he co-wrote with James Popoff). Acting credits include Persephone Theatre's THE RESISTABLE RISE OF ARTURO UI; Rosebud Theatre's QUEEN MILLI OF GALT, THE ROAD TO MECCA, TENT MEETING; Pacific Theatre's CHICKENS, THE CLEARING; and five summers playing the role of Jesus in THE CANADIAN BADLANDS PASSION PLAY. Stephen holds an interdisciplinary masters degree in fine arts and theology from Regent College and a BFA in drama from University of Calgary. He's immensely grateful for Kirsten's support, his best friend and spouse for 24+ years.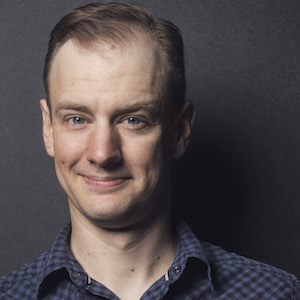 Tim Bratton – Recording Engineer, Sound Designer, Editor
Tim is an actor, playwright, sound designer, care-worker, musician, vinyl record collector and all around dilettante. With a broad range of training and experience in both theatre and theology, Tim is committed to helping people tell the stories that help us make sense of life. Acting credits include ROSENCRANTZ AND GUILDENSTERN ARE DEAD, BOEING, BOEING, PRIDE AND PREJUDICE and 'ART' (Persephone Theatre); GODSPELL (Pacific Theatre); WOLF AT THE DOOR (Otherwise Productions); WE ARE THE BODY (Burnt Thicket Theatre), and a self-produced Fringe Festival tour of the solo performance piece TOP TEN THOUSAND OF ALL TIME. Tim lives in Saskatoon with his lovely wife and fellow theologian, Amy, and their two very active sons.