A unique mashup of stories and songs that explores the nativity with a messy but joyful hope. CHRISTMAS PRESENCE returns for its 6th year in Saskatoon. Everyone is welcome to join us online, including kids! Featured artists include Becky Thomas, Tim Bratton*, Karla Adolphe, Darryl Dozlaw, Dave Von Bieker, Mara Teare, Stephen Waldschmidt, Nathan Pederson, Kaitlynn Kern, Colin Heskin and Jonnie Scrivens.
December 9, 2020, 7:30pm – Free Online Livestream Event (donations accepted)
A fundraising event to benefit Burnt Thicket Theatre, and to raise awareness for Stephen's Backpacks in support of
kids at risk of homelessness. (See video below!) Stephen McPhee, a Calgary boy with autism and a passion to help homeless kids in his city, started the society in 2008.
Inspired by Pacific Theatre's annual Christmas Presence tradition in Vancouver.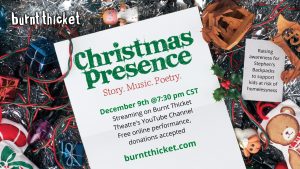 Download this Christmas Presence image to share on social media!
*The participation of this Artist is arranged by permission of Canadian Actors' Equity Association under the provisions of the Dance Opera Theatre Policy (DOT)
Check out these photos by David Stobbe from 2018:
Check out these photos by David Stobbe from 2017: