Here's what audience members are saying about My Little Plastic Jesus (get tickets while you can):
"Thank you for an outstanding experience last night. We are still debriefing it this morning and the talk back afterward was so enriching. My sisters and I were truly challenged and touched by Tim's writing and performance." –Kathie Greene
"My Little Plastic Jesus is funny, insightful, thought-provoking, and heartbreaking all at once. Tim Bratton delivers a tour de force performance, exploring the space between the universal and the personal. A great evening – the post-show discussion was animated and fun!" –Bruce McKay, Artistic Director of La Troupe du Jour
"Last night I saw the brilliant one-man show My Little Plastic Jesus—it looks deeply and critically at evangelical pop culture and the damage it's done and does, but also finds hope in people, in love, in loving-kindness, and even in faith. The show is not just for an evangelical audience (my Catholic husband loved it!), nor is it even just for a Christian audience. It's funny and touching and speaks to the weirdness of any kind of cultural tribalism or counter-culture experience. I highly, highly recommend the show—and encourage folks from Regina, Edmonton, and Calgary to keep an eye out for when it tours out there." –Ky Hingston
—
My Little Plastic Jesus toured to living rooms across SK & AB on March 5-15, 2020 – Presented by New Leaf Network
March 5 – Saskatoon
March 6 – Saskatoon
March 7 – Regina
March 10 – Rosebud, AB
March 11 – Calgary
March 12 – Calgary
March 13 – Red Deer
March 14 – Edmonton
March 15 – Sherwood Park, AB
Tickets $20 | Call 306-242-4478 for group discount | Doors open 30 minutes before showtime | Optional Q&A discussion follows the performance
[button url="https://boxoffice.burntthicket.com/" target="_blank" label="Buy Tickets" ptag=true]
*Online tickets will be available only until midnight the day before the show. A limited number of tickets will be available at the door even after online tickets are sold out, but living rooms are small venues. Get your tickets today so you don't miss out on your preferred performance date!
—
My Little Plastic Jesus in the News
CBC Radio One Saskatchewan Weekend interview: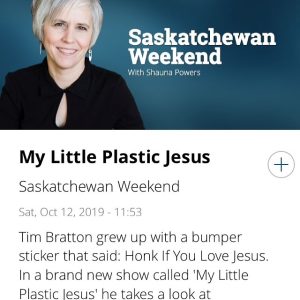 Saskatoon StarPhoenix article: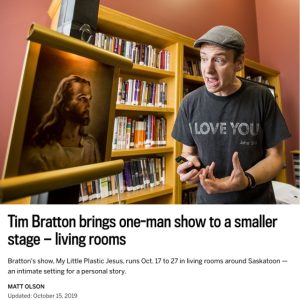 Interview on CTV News:
#MyLittlePlasticJesus