Here's what audience members are saying about My Little Plastic Jesus (get tickets while you still can):
"Thank you for an outstanding experience last night. We are still debriefing it this morning and the talk back afterward was so enriching. My sisters and I were truly challenged and touched by Tim's writing and performance." –Kathie Greene
"My Little Plastic Jesus is funny, insightful, thought-provoking, and heartbreaking all at once. Tim Bratton delivers a tour de force performance, exploring the space between the universal and the personal. A great evening – the post-show discussion was animated and fun!" –Bruce McKay, Artistic Director of La Troupe du Jour
"Last night I saw the brilliant one-man show My Little Plastic Jesus—it looks deeply and critically at evangelical pop culture and the damage it's done and does, but also finds hope in people, in love, in loving-kindness, and even in faith. The show is not just for an evangelical audience (my Catholic husband loved it!), nor is it even just for a Christian audience. It's funny and touching and speaks to the weirdness of any kind of cultural tribalism or counter-culture experience. I highly, highly recommend the show—and encourage folks from Regina, Edmonton, and Calgary to keep an eye out for when it tours out there." –Ky Hingston
Playing until October 27, 2019 in living rooms across Saskatoon
Thursdays – Sundays @ 7:30pm & 2:30pm Sunday Matinee Oct 27
Tickets $20 available now online & at the door ($10 for students* on Oct 26 only)
Oct 17, 7:30pm: Deb & Lavern's, 2261 Makaroff St (just south of Saskatoon Golf & Country Club), Furdale, SK
Oct 18, 7:30pm: Thomas & Terri Lynn's (Vine & Table), 419 Ave E South, Saskatoon
Oct 19, 7:30pm: Anita & Greg's, 207 Poplar Crescent, Saskatoon
Oct 20, 3:00pm Matinee: Darryl & Vonda's, 713 Ave H South, Saskatoon
Oct 24, 7:30pm: Amy & Adam's, 1120 Colony St, Saskatoon
Oct 25, 7:30pm: James & Gloria's, 110 – 201 Cartwright Terrace (in The Willows), Saskatoon
Oct 26*, 7:30pm: Amy & Adam's, 1120 Colony St, Saskatoon (a couple blocks from USask campus)
Oct 27, 3:00pm Matinee: Ryan & Sandra's, 317 3rd St East, Langham, SK
Added show: Oct 27, 7:30pm: Jared & Katherine's, 435 Kingsmere Blvd, Saskatoon
Doors open 30 minutes before showtime & an optional Q&A follows the performance
*Oct 26 only: Half price $10 tickets for students with a valid university/college ID card (at the door only), student tickets subsidized by Shercom Industries' generous sponsorship.
Note: Online tickets will be available only until midnight the day before the show. A limited number of tickets will be available at the door, but living rooms are small venues. Get your tickets today so you don't miss out on your preferred performance date!
My Little Plastic Jesus in the News
CTV News interview (starts at 12:22):
 
CBC Radio One Saskatchewan Weekend interview: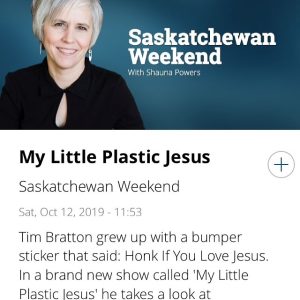 Saskatoon StarPhoenix article: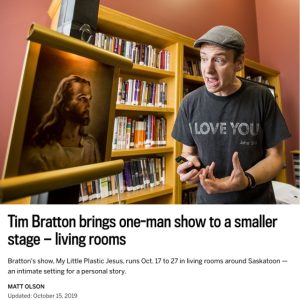 #MyLittlePlasticJesus