"We all have baggage, mine just has a 'Honk if you love Jesus' bumper sticker on it."
In this one-man living room show, Tim Bratton finds hilarity and heartache as he unpacks his upbringing in evangelical pop culture, examining its folly and redeeming its faith. Experience an insider's quest to unravel his own existential crisis by deconstructing the culture he grew up in, with both satire and love.
Part confession, part history lesson, part multimedia extravaganza, discover this surprisingly poignant coming of age story from a subculture that's so little understood even as it impacts global politics and the perspectives of millions.
A Burnt Thicket Theatre production
Created and performed by Tim Bratton*. Directed by Stephen Waldschmidt, with dramaturgy by Johnna Wright, and production design by Tim Bratton. Redefining Home Theatre. Tour presented by New Leaf Network.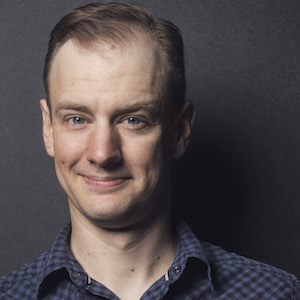 Tim Bratton
Tim is privileged to be the Artistic Associate for Burnt Thicket Theatre and is excited to finally be sharing this one man show, a true labour of love. Tim is a local actor and aspiring theatrical dilettante with diverse artistic talents and interests. You may have seen Tim on a Saskatoon stage in recent productions such as Rosencrantz and Guildenstern Are Dead (Persephone), Boeing Boeing (Persephone), Pride & Prejudice (Persephone), Art (Persephone) and Burnt Thicket's We Are the Body. Tim lives in the King George neighbourhood with his lovely wife, Amy, and their two very active little boys.
Praise for Tim Bratton's acting:
SATAward nomination for Outstanding Leading Performance for his role as Robert in Persephone Theatre's BOEING, BOEING, 2019.
"The showstopper [in Persephone Theatre's production of 'Art'] is a speech by Yvan recounting a tense conversation about wedding invitations between his wife and mother. It's torturously complex, wonderfully absurd and insanely long, but you understand all of it thanks to Tim Bratton's stellar enactment."
–Saskatoon StarPhoenix
Audience Advisory: Content not suitable for young children.
*The participation of this Artist is arranged by permission of Canadian Actors'
Equity Association under the provisions of the Dance Opera Theatre Policy (DOT).
Download the March 5-15 tour poster to print & spread the word in your community!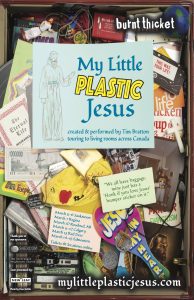 Invite your friends to the Facebook events: https://www.facebook.com/pg/BurntThicket/events/
My Little Plastic Jesus is planning to hit the road again!
Due to the ongoing situation regarding Covid-19, we are exploring options to get this wonderful show back into people's living rooms as early as Fall 2020, pending public health restrictions. The safety of our hosts, patrons, staff, and artists are our top priority and we will not ask people to open up their homes to us until it is safe and advisable to do so. To help us out through these times, we ask that you consider donating to Burnt Thicket Theatre so that we can continue to bring you more transformational stories as soon as we can!
Touring to Living Rooms across SK & AB March 5-15, 2020 – Presented by New Leaf Network
March 5 – Saskatoon – 7:30pm – James & Gloria's, 110 – 201 Cartwright Terrace, Saskatoon – SCENT-FREE VENUE (map link)
March 6 – Saskatoon – 7:30pm – Tim & Amy's, 704 Ave J South, Saskatoon
March 7 – Regina – 7:30pm – Chris & Christie's, 3539 Pederson Crescent, Regina
March 10 – Rosebud, AB – 8:15pm – Aaron & Elly's on 1st Ave W, just west of Rosebud Church (map link)
March 11 – Calgary – 7:30pm  – Kris & Dale's, 2228 32 Ave SW, Calgary
March 12 – Calgary – 7:30pm – Christi & Michael's, 1901 3rd Ave NW, Calgary
March 13 – Red Deer – 7:30pm – Stu & Corinne's, 10-38171 Range Road 282, Red Deer (map link, Apple maps)
March 14 – Edmonton – 7:30pm – Brenda & Dave's, 2839 – 44 Avenue NW, Edmonton
March 15 – Edmonton – 7:00pm – Spark Centre, 2257 Premier Way #116, Sherwood Park
Tickets $20 | Call 306-242-4478 for group discount | Doors open 30 minutes before showtime | Optional Q&A discussion follows the performance
*Online tickets will be available only until midnight the day before the show. A limited number of tickets will be available at the door even after online tickets are sold out, but living rooms are small venues. Get your tickets today so you don't miss out on your preferred performance date!
Would you like to have My Little Plastic Jesus perform in your living room?
Our 2019 world premiere sold out livings across Saskatoon. Do you know someone who'd love to have this show in their home? Tour plans are in the works for locations across Canada, beyond our March 5-15 dates in SK & AB. Email us at info @ burntthicket.com and let's talk!
Audience Reviews:
"Thank you for an outstanding experience. We are still debriefing it and the talk back afterward was so enriching. My sisters & I were truly challenged & touched." –Kathie Greene
"Funny, insightful, thought-provoking & heartbreaking. Tim Bratton delivers a tour de force performance. A great evening!" –Bruce McKay, Artistic Director of La Troupe du Jour
"Brilliant… looks deeply and critically at evangelical pop culture, finds hope in people, in love, and even in faith… Not just for a Christian audience, it's funny and speaks to the weirdness of any kind of cultural tribalism or counter-culture experience. I highly, highly recommend the show." –Ky Hingston
Read more audience responses here…
My Little Plastic Jesus in the News
CTV News interview (starts at 17:20):


CBC Radio One Saskatchewan Weekend interview: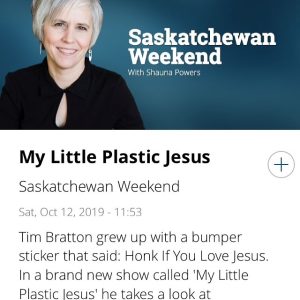 Saskatoon StarPhoenix article: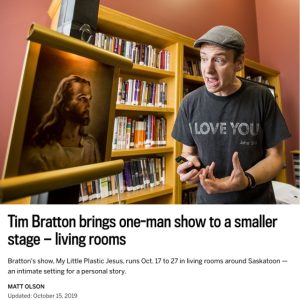 Thank you to our Sponsors
Production Sponsor: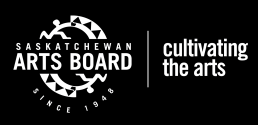 Saskatchewan Arts Board
Season Sponsor:

Shercom Industries, Saskatoon
Photography Sponsor:

Stobbe Photo, Saskatoon
Printing Sponsor:

Globe Printers, Saskatoon
Webhosting & IT Sponsor:

Prairie Fusion, Saskatoon