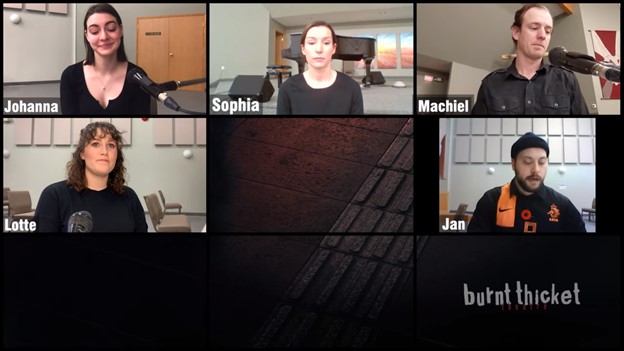 Pictured: Some of our outstanding cast! Clockwise from middle left: Amanda Trapp, Paige Francoeur, Caitlin Vancoughnett, Tim Bratton, Geordie Cowan.
Our online reading of Delft Blue by Andrew Kooman is available to watch NOW on our Youtube channel and Facebook page until November 30th.
Here what audience members have had to say:
"Captivating, suspenseful, thrilling!" –Peter K.
"What a great production to present on Remembrance Day. I enjoyed it very much." –Lynda B.
"Such a meaningful story. Thank you." –Jenell P.
"I loved it!" –Angela S.
"We were captivated by the reading… We look forward to seeing Delft Blue live someday!" –Stewart K.
Join hundreds of others from across Canada to watch this gripping story of perseverance and resistance in the face of overwhelming odds.
Click to watch DELFT BLUE on our YouTube channel
Click to watch DELFT BLUE on Facebook
When Holland falls to the Nazis in 1940, Machiel and his wife Sophia contend with impossible decisions: to choose between defiance and surrender, their quiet faith and unthinkable violence. Creating a better life for their daughter will not be easy in the face of growing terror and militant occupation in their hometown of Delft, a city renowned for its distinctive Delft blue porcelain. 
His family's experience during WWII inspired this script for Andrew Kooman, playwright of acclaimed Burnt Thicket Theatre productions We Are the Body and She Has a Name. "Delft Blue is my attempt to salvage some of the sense of feeling, some of the meaning of living in that time." says Kooman. "At its heart, it is a play that explores the impossible decisions people must make in impossible times, which seems especially relevant today. And underneath it all is a question about what it really means to resist and to live a good life when the world and everything around us has changed." 
This reading was made possible thanks to Burnt Thicket Theatre's Season Sponsor, Shercom Industries. Enjoy the show!