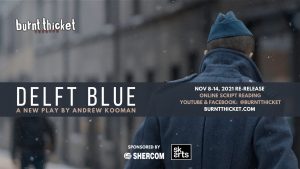 To kick off our 2021/22 season, we're re-releasing our online reading of Delft Blue by Andrew Kooman next week for Remembrance Day. From the playwright of She Has A Name and We Are The Body comes a captivating story inspired by his family's experience in WWII.
When Holland falls to the Nazis in 1940, Machiel and Sophia face impossible decisions: defiance or surrender, their quiet faith or unthinkable violence. 
Re-release premiere: Monday, Nov 8 at 7pm CST (6pm MST / 8pm EST)
Virtual Talk-Back following the premiere!
Stream on demand for free Nov 8-14
Virtual Talk-Back on Zoom: After the Nov 8th premiere we'll host a live conversation with the playwright, audience members and performers. The Zoom link will be shared with video audiences that night over live chat and on social media.
We've received many viewing requests since our 2020 reading of Delft Blue, so we're bringing this story of perseverance and resistance back to the online stage. And we've commissioned Andrew to revise the script for a live production in a future season.
Delft Blue artists are pictured at right (clockwise from top left): Amanda Trapp, Tim Bratton, Caitlin Vancoughnett, Andrew Kooman, Stephen Waldschmidt, Kody Farrow, Paige Francoeur, and Geordie Cowan, with video editing by Micah Elgaard. Read artist bios here.
This reading is made possible thanks to our season sponsors Shercom Industries and SK Arts. If you'd like to support our work, make a donation here (online, etransfer or by cheque).
Join us to commemorate Remembrance Day next week. I'll be remembering the service of our family's grandparents in both world wars, along with lives lost to residential schools and so many lands torn by violence today. May this story spur all of us to seek good ways to live as neighbours and citizens, to chose love over power, the common good over self-interest. In the midst of many challenges, as Canadians we have much to be grateful for and much to learn on the path to healing and reconciliation.
---