[button url="https://boxoffice.burntthicket.com/" target="_blank" label="Buy Tickets" ptag=true]
The first read-through is pictured above for Tim Bratton's new play My Little Plastic Jesus. "We all have baggage," Bratton says, "mine just has a 'Honk if you love Jesus' bumper sticker on it." We're delighted to start rehearsals on this project that's been 10 years in the making. We're touring Tim's solo show to living rooms across Saskatoon Oct 17-27. Tickets & house show locations are now available here.
In this provocative show, Bratton finds hilarity and heartache as he unpacks his upbringing in evangelical pop culture, examining its folly and redeeming its faith. Audiences will experience an insider's quest to unravel his own existential crisis by deconstructing the culture he grew up in, with both satire and love.
Part confession, part history lesson, part multimedia extravaganza, My Little Plastic Jesus is a surprisingly funny and poignant coming of age story from a subculture that's so little understood even as it impacts global politics and the perspectives of millions.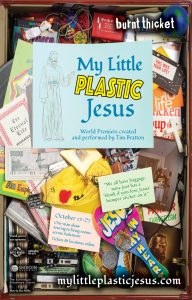 "My Little Plastic Jesus grapples with our universal need to negotiate the complex cultural legacies we inherit from our parents, families and communities," says playwright and performer Bratton. "We don't come to our sense of self-identity in isolation, as if from scratch, but in relation to stories and histories that have come before us and that have been handed to us by the cultures in which we find ourselves."
Bratton is BTT's Artistic Associate and has played multiple roles at Persephone Theatre, including Guildenstern in Rosencrantz and Guildenstern Are Dead and Robert in Boeing, Boeing (for which he received a SATAward nomination for Outstanding Leading Performance). Stephen Waldschmidt is directing the show with dramaturgy by Johnna Wright, Persephone's Literary Manager who directs regularly there and elsewhere across Canada.
[button url="https://boxoffice.burntthicket.com/" target="_blank" label="Buy Tickets" ptag=true]