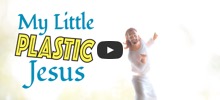 We're delighted to release the official trailer for My Little Plastic Jesus! This new solo show is created by SATAward-nominated local actor Tim Bratton, who will perform in living rooms across Saskatoon from Oct. 17-27, 2019. "We all have baggage," Tim says, "mine just has a 'Honk if you love Jesus' bumper sticker on it." Tickets & locations are now available here.
"In as much as evangelical pop culture is a real or perceived force in the shaping of our current political/cultural moment, this play has relevance for us all," says the playwright and performer. "Along with plenty of laughs, My Little Plastic Jesus offers insight to better understand the hyper-polarized politics in North America. This play invites us to transcend the seeming inability to hear one another across partisan divides—which is an absolute necessity as we head towards the federal election on October 21."
Tim is BTT's Artistic Associate and has played multiple roles at Persephone Theatre, including Guildenstern in Rosencrantz and Guildenstern Are Dead and Robert in Boeing, Boeing (for which he received a SATAward nomination for Outstanding Leading Performance).
"With My Little Plastic Jesus we want to remove any mental or emotional barriers that may otherwise hinder the connections between audience and actor," says Stephen Waldschmidt, BTT's Artistic Director who is directing the production. "We are asking people to consider their most closely held beliefs and how they interpret their experiences as human beings, how they engage in public life. We want this to happen in as safe a space as possible, in a living room."
This intimate, true story has been 10 years in the making, and BTT commissioned the creation of the script from the raw material of Bratton's lived experience and historical research. The script's development has been aided by dramaturge Johnna Wright, who serves as Persephone's Literary Manager and directs regularly there and elsewhere across Canada.
We're grateful to have received a grant from Saskatchewan Arts Board to support the development and production of the play. Like our first living room show Twinkle in 2011, we are again redefining Home Theatre with this house concert-style solo theatre performance.
We also want to say thank you to Jared Siebert and Nathan Siebert who created the video trailer. The "Plastic Jesus" song was performed by Darryl Dozlaw, Tim Bratton & Stephen Waldschmidt (music & lyrics by Ed Rush & George Cromarty, 1957).
Psst… Online tickets will be available only until midnight the day before the show. A limited number of tickets will be available at the door, but living rooms are small venues. Get your tickets here today so you don't miss out on your preferred performance date!