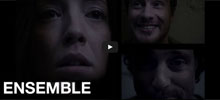 Using only Morse code, Richard asks Elise and Micah – who, like him, are imprisoned in a Romanian jail – what they will do with their freedom if they are ever released. Inspired by the history of Richard Wurmbrand and other prisoners of conscience who endured years confined in tiny subterranean rooms deprived of all sensory stimulation, engage this vital conversation about the suffering of marginalized populations and the human right to freedom of thought, conscience and religion.
Burnt Thicket Theatre is pleased to release the Ensemble Featurette for WE ARE THE BODY, our world premiere production of the play by Andrew Kooman. Created by our media sponsor Unveil Studios, this preview trailer features David Snider as Richard, John McIver as Micah, and Heather Pattengale as Elsie. Get involved by making a donation to our Join Us In the Rehearsal Hall campaign and let's bring this enlivening story to life!

Buy Tickets: 2015 World Premiere Tour
RED DEER, Alberta | MAY 5 – 9 
Scott Block Theatre, 4816 50 Avenue (map)
CALGARY, Alberta | MAY 13 – 23
Pumphouse Theatres, 2140 Pumphouse Avenue SW (map)
SASKATOON, Saskatchewan | MAY 26 – 31
Studio 914 Theatre, 914 20 Street West (map)
7:30 PM nightly, 2 PM matinees | $25 in advance, $30 at the door
AUDIENCE ADVISORY: This show is not suitable for children.
Get Involved: Let's Bring This Enlivening Story To Life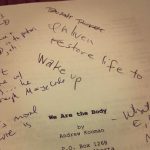 In April final preparations for the World Premiere of Andrew Kooman's newest play WE ARE THE BODY will begin. Last minute adjustments will be made to designs, costumes fitted, sets constructed, the director, stage manager and actors will gather around the script and fill prompt books with notes.
A vital conversation about suffering and the human right to freedom of thought, conscience and religion…
In solitary confinement behind the Iron Curtain of post-war Romania, Elsie's only companions are two other prisoners she cannot touch or see, tortured like her for their beliefs. They tap out messages in Morse code, triggering memories from Elsie's former life, especially her love affair before the war. Past and present collide as Elsie is forced to imagine a future without torture or faith. Inspired by actual events, WE ARE THE BODY is a gripping tale of treachery and survival from Andrew Kooman, playwright of SHE HAS A NAME.