We're delighted to announce that our original production of the smash hit EVERY BRILLIANT THING by Duncan Macmillan, with Jonny Donahoe, featuring Jenna-Lee Hyde, will open Live Five Theatre's 2018-19 Season, October 4-14 in Saskatoon. This Saskatchewan premiere will draw audiences in to this astonishingly funny comedy about depression and the lengths we go to for those we love.
Shows will be at The Refinery Arts & Spirit Centre (609 Dufferin Avenue), an intimate and versatile performance space a block off Broadway Ave. Tickets are now available as part of Live Five's season passes at LiveFive.ca. Purchase a Live Five season pass by May 6th, 2018 and you'll be entered in Live Five's Early Bird Draw for a chance to win an elegant evening for two!
Live Five Theatre's board president Kate Herriot says, "We begin Season 15 as any good night out should: with laughter. EVERY BRILLIANT THING is an examination of what makes life worth living. Jenna-Lee Hyde will be returning to Saskatoon to bring her undeniable charm to this remarkable one-person show."
"Live Five is a non-profit support organization that presents a 5-show season, based on applications from local professional indie theatre producers," Herriot explains. "We rely on theatre companies like Burnt Thicket Theatre to provide our subscribers with high calibre productions that entertain, excite, and offer a refreshing take on the human experience. Our Season Selection jury was impressed with Burnt Thicket's successful producing background, their swift development as a company, and the way they communicated their passion behind this particular project. This play will reach Saskatchewan audiences in a way they've never experienced before and we couldn't be more excited to be launching our 15th season with EVERY BRILLIANT THING."
Burnt Thicket's artistic director Stephen Waldschmidt says, "We are so grateful to be selected for Live Five's next season. Their innovative support structure for independent theatre producers and curated season of shows is a gift to artists and audiences in Saskatchewan. Every city in Canada would benefit from this kind of partnership and support for live theatre.  This is a wonderful way to 'introduce' our company to Saskatoon through our first full production based in our new hometown."
"And speaking of partnerships," adds Waldschmidt, "we're glad to be working with Saskatoon's Mental Health and Addiction Services [MHAS] to leverage the production as a way to raise awareness about mental health in our community. We will have talk-backs after every show, many with invited guests from the mental health professional community. Next Sunday, May 6 we'll be participating in the MHAS Fun Run and we would invite everyone to come join us. It's a great way to celebrate the arrival of spring, experience the benefits of being active, and support recovery for those affected by mental health and addictions issues." Learn more and register to run or walk on May 6 at: mhasfunrun.ca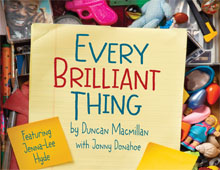 Read more about the play on the EVERY BRILLIANT THING page.
Learn more about Live Five Theatre's 2018-19 Season, buy season passes & tickets at LiveFive.ca