Every Brilliant Thing Postponed at Rosebud Theatre
Due to the ongoing situation surrounding Covid-19 and the Government of Alberta's restrictions, we have made the tough decision to cancel Every Brilliant Thing at Rosebud Theatre this summer of 2020. Our highest priority is the safety of our patrons, artists, staff, and volunteers, which would not have been possible to guarantee under the current pandemic. Rosebud Theatre has several options for those who have already purchased tickets, which can be found at https://www.rosebudtheatre.com/shows/every-brilliant-thing. We are planning on bringing back the show in some capacity in 2021, so stick around!
EVERY BRILLIANT THING
by Duncan Macmillan, with Jonny Donahoe
You're seven years old. Mum's in hospital.
Dad says she's 'done something stupid'. She finds it hard to be happy.
You start a list of everything brilliant about the world. Everything worth living for.
1. Ice Cream.
2. Kung Fu Movies.
3. Laughing so hard you shoot milk out your nose…
You leave it on her pillow. You know she's read it because she's corrected your spelling.
Twenty years and thousands of things later, the list will take on a life of its own. Be drawn in to this astonishingly funny comedy about depression and the lengths we go to for those we love. Based on true and untrue stories.
"Heart-wrenching, hilarious… one of the funniest plays you'll ever see, full stop."  – The Guardian
Critic's Pick – The New York Times
Critic's Choice – Los Angeles Times
"the funniest show about depression you've ever seen… [It's] about finding reasons to live… And those reasons can be as minute as wearing a cape and as big as falling in love." – New York Post
Audience Advisory: Content not suitable for young children.
Creative Team from January, 2020
Jenna-Lee Hyde* – Performer – jennaleehyde.com
Jenna-Lee is a Prairie born and raised actor living in Toronto. She has trained with theatre professionals from across Canada at The Second City in Toronto, the Banff Puppet Intensive, Globe Theatre's Actor Conservatory, and the University of Saskatchewan where she received her BFA in Acting. Some recent credits: Our Town (Theatre Rusticle / Buddies in Bad Times Theatre), marry me, marry me, marry me, marry me (House + Body / Paprika Festival), Drowning Girls, The Secret Mask, (Globe Theatre), Farndale…Christmas Carol (Persephone Theatre), Much Ado About Nothing, Taming of the Shrew, and Romeo and Juliet (Shakespeare on the Saskatchewan). Her work can also be seen on Workin' Moms (CBC), and the upcoming short film, Benched.
Stephen Waldschmidt – Director & Scenic Co-Designer
Tim Bratton – Sound Designer, Music Director & Scenic Co-Designer
Charlie Peters – Lighting Designer
Mackenzie Dawson – Stage Manager
*Burnt Thicket Theatre engages under the terms of the D.O.T. policy, professional Artists who are members of Canadian Actors' Equity Association.
Our remount production was extended Jan. 23-26, 2020 at Winterruption Saskatoon and toured to Regina's Globe Theatre Jan. 30-Feb. 2, 2020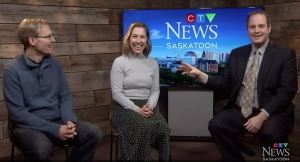 Watch interview with Jenna-Lee Hyde & Stephen Waldschmidt CTV News Saskatoon on Jan 20, 2020 (start video at 13:32).
Our first production played Oct. 4-14, 2018 in Saskatoon, presented by Live Five Theatre; and Oct. 17-21 in Calgary, presented by Fire Exit Theatre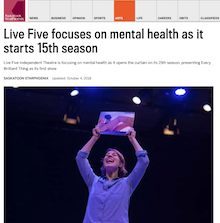 "Live Five is focusing on mental health as it opens the curtain on its 15th season, presenting Burnt Thicket Theatre's EVERY BRILLIANT THING." –StarPhoenix article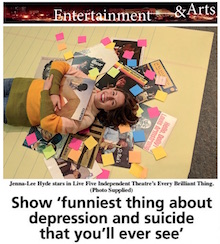 "Show 'the funniest thing about suicide and depression that you'll ever see.'" –Saskatoon Express article
Buzz about our 2018 production
SATAward recipient: Jenna-Lee Hyde, Outstanding Leading Performance
SATAward nomination: Outstanding Production
SATAward nomination: Outstanding Direction, Stephen Waldschmidt
"I saw this production at Fire Exit Theatre in Calgary last year. It was one of the most extraordinarily entertaining, funny, interactive, and emotionally uplifting plays I have ever seen. The show was packed, and the audience loved it! This will be an experience like none we've ever had in our theatres—an interactive audience participation wonder that disarms, informs, and charms us." –Morris Ertman, Rosebud Theatre Artistic Director
"I was blown away by the production and the performance… I hope you are selling out. You deserve to."‬ –Louis B. Hobson, Calgary Herald theatre reviewer, in an email to BTT
"If you are in Calgary tonight, I can not more strongly recommend Every Brilliant Thing. Jenna-Lee M. Hyde gives a tour de force performance in a show unlike any you've ever seen. It's a straight up hilarious and soul exposing ride. I don't recommend shows lightly. Make time for this one. TRUST ME." –Krista Marushy, Facebook post
"I go to a lot of theatre and this is in my top 5 of all time!! I have never felt so involved in a one person play and rarely have I seen a serious subject dealt with so well balancing humor, sentiment and sadness" –Joy R.
"All the very good things I'd heard about Every Brilliant Thing paled in comparison to what was actually going on in the theatre today… Jenna-Lee Hyde gave us the most generous, authentic experience of this story and through it, her true, evident care for and of us was truly heroic. She seemed to take each and every one of us by the hand, never with a sideward glance to anyone else, never hinting at a lack of confidence in us or in where she was taking us, and made each of us in that audience feel like one of the Brilliant things on the list." –Brad G. Graham, Facebook post
"As both an actor / playwright and a Mental Health / Substance Abuse Worker I found the play to be very groundbreaking. It had a profound impact of drawing the audience into the story, while at the same time generously educating about mental health, primarily suicide. I loved the interaction with the audience, watching how the story unfolded and produced healing. The content was heavy, yet the play didn't traumatize instead it gave a beautiful dose of insight." –Wanita Bird, Saskatchewan Health Authority, in an email to BTT
"Every Brilliant Thing @LiveFiveTheatre is brilliant — a play about depression that gives you one million reasons to be happy. One million and one: great performances in great plays. Go see it." –Rod Macpherson, Twitter post
"THANK YOU for encouraging me to go see this 'show'… I hesitate to call it a show 'cuz it was more like watching a live spontaneous sharing of thoughts, memories, with no feeling of it being memorized show lines. Quite extraordinary. My brain is thinking differently now. Yup, this one will change you." –Diane I., Facebook comment
Thank you to our Corporate Sponsors
Production Sponsor:

Season Sponsor:

Shercom Industries, Saskatoon
Photography Sponsor:

Stobbe Photo, Saskatoon
Printing Sponsor:

Globe Printers, Saskatoon
Webhosting & IT Sponsor:

Prairie Fusion, Saskatoon