$11,946 was given to help us Pass the BTT Torch from Calgary to Saskatoon!
Our donors' generosity brought us 99% of the way to our goal of raising $12,000! ($20 per km cycled x 600km)
On October 27-29, 2017 Jamie & Julie Popoff, together with friends of the company, biked more than the total kilometers from Calgary to Saskatoon to pass the Burnt Thicket torch as the company moves to its new home in SK. They were joined by our board president Andy Wilson, incoming artistic director Stephen Waldschmidt, his wife Kirsten and three kids, and friends listed below to ride 885km in total. Look for the hashtag #BurntThicketYYC2YXE and relive Jamie & Julie's adventure all the way to Saskatoon on our Facebook page!
Sponsor the ride by becoming a monthly donor or make a special gift to ensure our life-changing stories are experienced by Canadians for another 10 years. Let's write a new chapter in the Burnt Thicket story together! (All gifts over $10 will receive a charitable tax receipt from our office.)
[button url="https://burntthicket.com/get-involved/" target="_top" label="Donate Today"]
#BurntThicketYYC2YXE in the News
Watch Global News' Oct 29 coverage of our Cycling Challenge, as Stephen Waldschmidt met Jamie & Julie Popoff arriving at the Saskatoon city limits. (Start video at 8:00)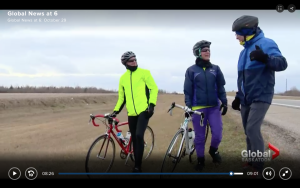 Read the article in The StarPhoenix about the company's move from Calgary to Saskatoon.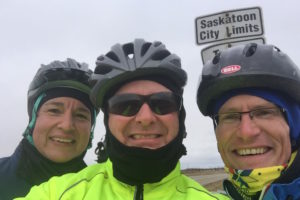 Our Cyclists
17 friends of the company joined us on the ride to help save the Popoffs' tender tushes. Jamie & Julie cycled 440km on Oct 27-29, leapfrogging each other to go 100km from Calgary to Rosebud on Friday, 278km from Drumheller to Kindersley on Saturday, and 62km in 75kmph crosswinds to Saskatoon on Sunday. Another 445km was covered by these friends in their locations, making 885km of total distance!
Lavern Arndt, Saskatoon 50km completed
Andrew Cooper, Rosebud, 35km pledged,  70km completed (Rosebud to Drumheller & back)
Janalee Cowan, Saskatoon, 10km pledged, 30km completed
Peter, Laura & Andrew Fenton, Saskatoon, 25km completed
Michael Heaney, Calgary, 25km completed
Al Popoff, Lloydminster, 50km completed
Gloria & James Mitchell, Saskatoon, 50km completed
Mark Sorell, Calgary, 10km completed
Stephen & Kirsten Waldschmidt & kids, Saskatoon, 75km pledged, 85km completed
Andy Wilson, Calgary, 50km completed (Calgary to Irricana)
Total cycling distance completed: 885km! See all the photos on our Facebook page.
THANK YOU to each of you who have sponsored or cycled in our Passing the Torch Cycling Challenge!