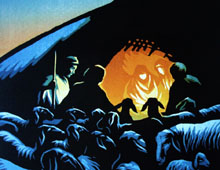 A unique mashup of stories and songs that explores the incarnation with a messy but joyful hope. CHRISTMAS PRESENCE returns for its third year in Saskatoon, its first time as a Burnt Thicket production.
December 8, 2017 @ 7:30pm, Studio 914, 914 20th St W, Saskatoon
December 10, 2017 @ 10am, College Park Covenant Church, 909 Acadia Dr, Saskatoon
Go to the CHRISTMAS PRESENCE show page for more details.