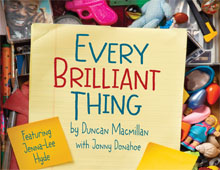 Coming Fall of 2018: an original production of the smash hit EVERY BRILLIANT THING by Duncan Macmillan, with Jonny Donahoe.
You're seven years old. Mum's in hospital.
Dad says she's 'done something stupid'. She finds it hard to be happy.
You start a list of everything brilliant about the world. Everything worth living for.
1. Ice Cream.
2. Kung Fu Movies.
3. Laughing so hard you shoot milk out your nose…
You leave it on her pillow. You know she's read it because she's corrected your spelling.
Twenty years and thousands of things later, the list will take on a life of its own. An astonishingly funny comedy about depression and the lengths we go to for those we love, leading audiences through a remarkably interactive theatre experience of what makes life worth living.
"Heart-wrenching, hilarious…possibly one of the funniest plays you'll ever see, full stop." ★★★★ – The Guardian
"the funniest show about depression you've ever seen… [It's] about finding reasons to live… And those reasons can be as minute as wearing a cape and as big as falling in love." – New York Post
Fall 2018 performance dates, venue details, and creative team TBA.