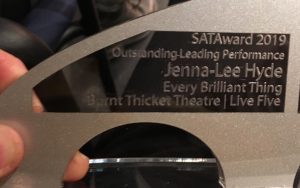 1,000,006. Jenna-Lee Hyde receiving a SATAward for Outstanding Leading Performance in Every Brilliant Thing! Our production was also nominated for Outstanding Production and Outstanding Direction – Stephen Waldschmidt. Congratulations Jenna-Lee – and the whole creative team, which includes Tim Bratton, Charlie Peters, Alana Freistadt, and Mackenzie Dawson, along with our presenters Live Five Theatre and Fire Exit Theatre! 
Stephen Waldschmidt read Jenna-Lee's acceptance speech in her absence at the SATAs gala on September 9 (pictured below).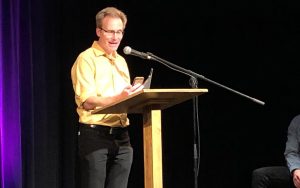 Jenna-Lee Hyde reprises her role in January when we remount Every Brilliant Thing. The show will be the featured theatre production in Saskatoon's Winterruption arts festival Jan. 23-26 and then tour to Regina to be presented by Globe Theatre in their Sandbox Series Jan. 30-Feb. 2.
Back by popular demand:
Jan. 23-26, 2020 in Saskatoon EXTENDED!
at The Refinery (609 Dufferin Ave, Saskatoon) presented by Winterruption Saskatoon
Buy Tickets for Jan 26 2pm ADDED SHOW
Call The Broadway Theatre's Box Office: (306) 652-6556 ext 2 to purchase for any show, or to reserve for ASL interpreted performance on Jan. 25 at 2pm.
Jan. 30-Feb. 2, 2020 in Regina
presented by Globe Theatre (1801 Scarth St, Regina), opening their 2020 Sandbox Series
Buy Tickets at Globe Theatre, Regina
June 24-Aug. 22, 2020 in Rosebud, AB
A new co-production with Rosebud Theatre, tickets available at RosebudTheatre.com
Buy Tickets at Rosebud Theatre
BTT's artistic associate Tim Bratton also received a nomination for Outstanding Leading Performance for his role as Robert in Persephone Theatre's Boeing, Boeing. From Oct. 17-27 Tim Bratton will be performing in living rooms across Saskatoon in our world premiere premiere production of his new play My Little Plastic Jesus.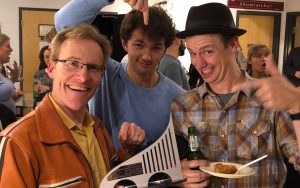 Inaugurated in 2008, the SATAwards recognize, promote and celebrate professional theatre artists and organizations of all sizes in Saskatoon and its surrounding area. See all recipients and nominations at satawards.ca/2019-nominees. (Tim, Mac & Stephen pictured at right at the SATAs reception)