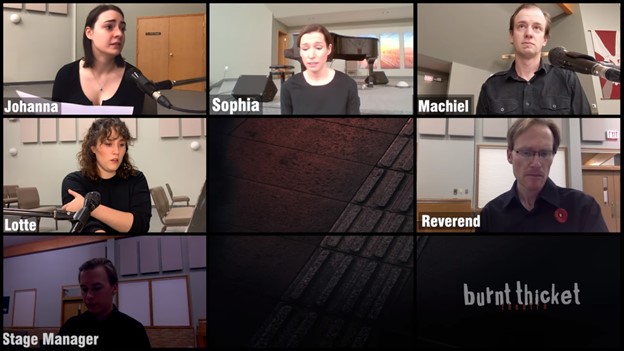 Our actors reading Delft Blue, clockwise from bottom left: Kody Farrow, Amanda Trapp, Paige Francoeur, Caitlin Vancoughnett, Tim Bratton and Stephen Waldschmidt. Geordie Cowan also performed.
After a great response to our online reading of Delft Blue by Andrew Kooman, we've scheduled an audience talkback this Friday, November 27 at 8pm CST.
Join artistic director Stephen Waldschmidt, playwright Andrew Kooman, and some of our actors to discuss the story, its setting, and give valuable feedback for the script's development. If you have burning questions after watching, we'd love to hear them!
[fruitful_btn link="https://us02web.zoom.us/j/81079876447?pwd=RW0zeDczdzJ3MnBPZG5HcXJwSWs1dz09″ target="_blank" id="ff-btn-5fac60089480d" size="large" color="default" text_color="#ffffff" background_color="#a63a30″ radius="4″ type="button" state="active"]Click to join DELFT BLUE audience talkback on Zoom[/fruitful_btn]