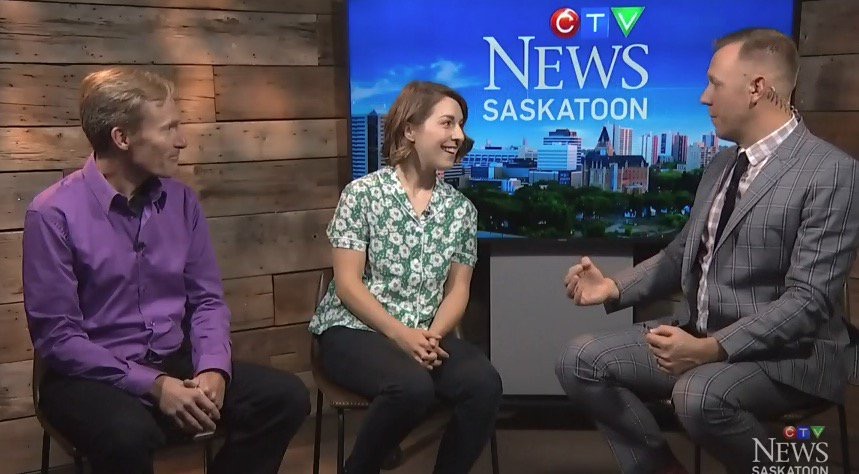 Interview with Jenna-Lee Hyde & Stephen Waldschmidt on CTV News Saskatoon (starts at 17:50).
You're seven years old. Mum's in hospital. She finds it hard to be happy. You start making a list of everything worth living for. You leave it on her pillow. You know she's read it because she's corrected your spelling.
An astonishingly funny comedy about depression and the lengths we go to for those we love.
by Duncan Macmillan, with Jonny Donahoe
Featuring Saskatoon's own Jenna-Lee Hyde
October 4-7 & 11-14 in Saskatoon, presented by Live Five Theatre
[button url="https://ontheboards.ca/events/every-brilliant-thing/" target="_blank" label="BUY TICKETS IN SASKATOON" ptag=true]
Thursdays through Saturdays @ 8pm; Saturdays & Sundays @ 2pm; Pay-What-You-Can Preview Oct 4
Tickets $22-$25 call 306-653-5191 or purchase online (save with a Live Five Season Pass)
Venue: The Refinery Arts & Spirit Centre – 609 Dufferin Avenue, Saskatoon – one block off Broadway next to Emmanuel Anglican Church
All Saskatoon performances will be followed by AfterPlay – an optional discussion with the audience. AfterPlays on Thursday evenings and Saturday/Sunday matinees will feature an expert from Mental Health & Addiction Services of Saskatoon, including Jae Bleakley who uses his lived experiences with bipolar disorder to bust stigma and bring hope, and Wanita Bird, a Substance Use Counsellor and First Nations Mental Health First Aid facilitator.
October 17-21 in Calgary, presented by Fire Exit Theatre
[button url="https://www.fireexit.ca/show/31/every-brilliant-thing" target="_blank" label="BUY TICKETS IN CALGARY" ptag=true]
Wednesday through Saturday @ 7:30pm; Saturday & Sunday @ 2pm
Tickets $20-$25 call 403-640-4617 or purchase online
Venue: The Engineered Air Theatre at the Arts Commons – 200 block of 9 Avenue SE, Calgary – Parking Info
Audience Advisory: Content not suitable for young children.