We've been quietly working to offer our audiences an inspiring collection of uniquely personal shows for our 2019-2020 season. I am absolutely thrilled to be able to FINALLY tell you what we have in store!
First we'll produce the world premiere of an intimate true story that's been 10 years in the making, which our company commissioned. Tim Bratton (pictured below) will share his new play MY LITTLE PLASTIC JESUS in living rooms across Saskatoon on Oct 17-27. Yes, I said living rooms – we're redefining 'home theatre' with this house concert-style solo theatre performance. Tickets & locations are now available here.
Buy Tickets for My Little Plastic Jesus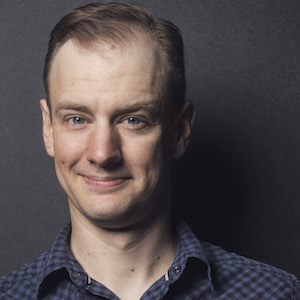 Part confession, part history lesson, part multimedia extravaganza, discover this surprisingly funny and poignant coming of age story. As Tim says, "We all have baggage, mine just has a 'Honk if you love Jesus' bumper sticker on it." Tim played Richard in our 2015 production of WE ARE THE BODY, along with multiple lead roles at Persephone Theatre. We're grateful for a recent grant from Saskatchewan Arts Board to support this new play, and for Johnna Wright's work as our dramaturge.
In December we'll celebrate the nativity with another mashup of stories and songs in CHRISTMAS PRESENCE. This show supports Stephen's Backpacks, which gives backpacks with school supplies and Christmas gifts to homeless children and kids at risk in the Saskatoon area.
Back by popular demand – and through the support of many donors – we'll remount EVERY BRILLIANT THING with Jenna-Lee Hyde (pictured at left, production photo by David Stobbe) and share with more people this life-altering comedy about depression and gratitude. In January our production will be the featured theatre event at Winterruption 2020, Saskatoon's live arts festival during the longest, coldest darkest time of winter. Then we'll bring the show to Regina, presented by Globe Theatre as part of their Sandbox Series.
For those of you outside Saskatchewan, you won't miss out. Stay tuned for an announcement of Summer 2020 performances of EVERY BRILLIANT THING around western Canada. Plans are also in the works to tour MY LITTLE PLASTIC JESUS to a living room near you!
Tickets for these events will be available this fall here on our website.
If you made a donation to our Play It Forward campaign last year, let me thank you. If you believe that telling these kinds of stories matters for the common good of our neighbourhoods, our cities, and even our nation, would you consider donating today to support our work in the coming year? Will you partner with us by making a tax-deductible donation?
Thank you again to all of you have supported our work thus far. We could not do what we do without you! 

Grace,
Stephen Waldschmidt
artistic director